eDocs
We want to make your mailbox greener! Receive your Bank of Advance statements and notices via email when you sign up for eDocs. Your eDocs arrive days sooner than mailed statements or notices. It's fast, free, and secure!
When your statement is ready, you will receive a notification email from the Bank of Advance. To view your statement, open the PDF attachment, and log in using your Online Banking ID and Password. Don't forget to save your statement to your computer or USB drive for unlimited access to your statements. 
To enroll in eDocs:
Log into your Online Banking, and click on the eDocs tab.
Enter the requested information into the enrollment form:

Select which accounts you want to enroll.
Enter your email address.
Enter a security phrase (This will be the subject line of every eDoc email so you know the attachment link is legitimate).
Enter the enrollment passcode (Click on the link provided within the Enrollment form to view the passcode).

Agree to the terms, and click Enroll Now.
To view your eDocs:
Look for an email from the Bank of Advance containing your security phrase in the subject line.
Open the PDF attachment included in your email, and log in using your Online Banking ID and Password.
Print or save the PDF version of your document to a computer or USB drive for future viewing. The link within your email will only be available for 30 days after receipt for notices and 18 months after receipt for statements.


You must be an Online Banking customer to receive eDocs.
Don't have Online Banking?  
Designed for You

Open an account that fits your
lifestyle, and make the most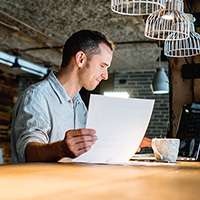 Business Banking
We are committed to providing business accounts that work as hard as you do.