Switch Kit
Welcome to Bank of Advance!
Switching to a Bank of Advance account is as easy as 1… 2… 3!
1.  Open your new account
Find an account that's right for you, and speak with one of our Customer Service Representatives to open your new account. We can get you set up with Online Banking, Online Bill Pay, eDocs, and many other free services.
2.  Switch your automatic payments and direct deposits

Review your old account for automatic payments and direct deposits. Use the Deposit and Payment Checklist to help identify all your automatic transactions. Fill out and send Automatic Payment Change Requests and Direct Deposit Enrollment/Change Requests to inform companies of your new account information.
3.  Close your old account
Make sure all checks and withdrawals have cleared your old checking account. If you still have outstanding checks, leave enough funds available in your old checking account for transactions that may still need to be withdrawn. Use the Account Balance Worksheet to help determine outstanding debits and balance your old account with your new one. Once all outstanding debits have cleared and all your automatic transactions have been switched to your new account, complete and send the Account Closing Request to the financial institution where you are closing the account. You can then destroy all checks, deposit slips and ATM/debit cards associated with the old account.
Designed for You

Open an account that fits your
lifestyle, and make the most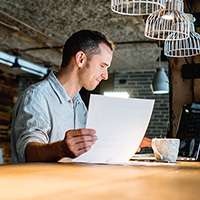 Business Banking
We are committed to providing business accounts that work as hard as you do.