Business Savings
Enjoy these services with a Bank of Advance Business Savings Accounts:
Online, Mobile, and Text Banking
Electronic statements and notices (eDocs)
Direct Deposit
Account monitoring and fraud prevention through Yellow Hammer™ Fraud Detective

 

$100 minimum to open account

Minimum daily balance of $100 to avoid a $3 monthly service charge

Up to 6 free withdrawals per month; $1 per each additional item

*

Earn quarterly interest according to the following interest rate tiers:

$100.00 - $2,499.99
$2,500.00 - $9,999.99
$10,000.00 and above

Free quarterly statements (electronic or paper statements)

Statements do not contain images

ATM cash withdrawals available

Deposits are FDIC

(Opens in a new Window)

 insured

 
*Transfers from your account to another account or to 3rd parties by pre-authorized, automatic or telephone transfer are limited to six (6) per month or statement cycle. Abuse of this overage may result in account closing.
Daily Balance Method. We use the daily balance method to calculate interest. This method applies a daily periodic rate to the principal in the account each day.
Compounding and Crediting. Interest will be compounded and credited to the account on the next to last business day of each quarter for Statement and Start Up Savings. If the account is closed before the interest is credited, accrued interest will not be paid.
Accrual of Interest. Interest begins to accrue on the first business day after the day any non-cash deposit is made.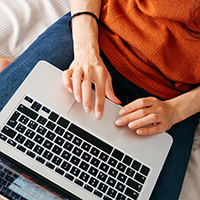 Easy and Secure
Don't have time to swing by the bank? Save some time by managing your accounts online.