Bank Cut-Off Times
All transactions made in-person with a bank associate are processed on the business day they are received. Transactions received on Saturdays or days the bank is closed will be processed the following business day. A business day is every day except Saturdays, Sundays and federal holidays.
Electronic transactions conducted via our electronic banking products (excluding Mobile Deposit) have a cut-off time of 6:00 p.m. CST Monday through Friday. Such transactions made on Saturdays, Sundays or federal holidays will be processed on the following business day.
The cut-off time for Mobile Deposit is 4:00 PM Central Standard Time. Mobile Deposits made by 4:00 PM CST Monday through Friday will typically be made available on the same business day. Deposits made after 4:00 PM CST will be considered deposited on the next business day. Deposited funds will be posted to the account after daily processing is complete. All deposits are subject to review and availability of funds may be delayed at our discretion.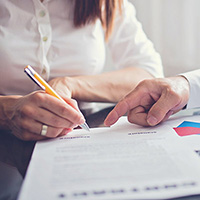 Borrow for Your Business

You have a vision, and we have the tools to help you get there. Explore our business lending solutions.