Online Services FAQs
Online Banking Questions
Q: How secure is Online Banking?
A: When sending any sensitive information online, this site automatically switches to a secure mode. This is evident by the "https" that will appear in the URL as opposed to "http." If you are using Internet Explorer, you will see a locked padlock at the bottom of your screen when you are in a secure mode and an unlocked padlock when you are in an un-secure mode. Also, we will never put your account number online. We only use pseudo names when displaying account numbers.
Q: How current are my account balances and transaction history?
A: Your account information is constantly updated with new transactions that post to your account throughout the day.
Q: How much account history can I view at once?
A: You can view transactions that have posted to your account within the last 3 months or since you have been enrolled, whichever is most recent.
Q: Can I change the name of my accounts?
A: Yes. Each account is given a default name, the type of account it is (DDA=checking, SAV=savings, RE Loan, CL Loan) followed by the last three digits of the account number ex: DDA0333. To rename your accounts, go to Options and then Accounts.
Q: Can I set up Alerts that will notify me of important events?
A: Yes! There are four types of alerts that are available for you to use.  Alerts can be seen when you are logged into Online Banking or sent to you by email or text message.
Event Alerts will notify you of the following: incoming wires, incoming ACH debits and credits, statements, Non-Sufficient Funds (NSF) Notices, maturing loans, maturing CD's, Bill Pay payment paid/failed, transfer failed/expired/restricted/deleted, Bill Pay Payee changed from check to electronic.
Balance Alerts will notify you when your balance falls below or above the limit you set.
Item Alerts notify you when a specific item posts to your account.
Personal Alerts can be used to remind you of important dates such as birthdays, anniversaries or appointments.


Q: Are there any requirements to keep my Online Banking access active?
A: To keep your online account active, you must log in once every 180 days. If you do not log in, your account will go dormant. It will remain dormant for 30 days, and then close. Closure of your online account will include cancellation of Bill Pay service, deletion of scheduled Bill Pay payments and scheduled transfers.
Q: What are the requirements for the NetTeller PIN/Password?
A: Your PIN/Password must be at least 6 characters in length and must include at least one letter, one number and one special character. The password cannot start with a number. When resetting your password, you will not be allowed to use any of the last four passwords that have been used.
Q: What if I am having problems logging into my account?
A: One of the following may be occurring:
If you are getting an "Invalid NetTeller ID or PIN/Password" error, that means you are entering either an incorrect NetTeller ID or PIN.
If you enter your NetTeller ID and see an image this is not your security picture, you are using an incorrect NetTeller ID.
If you see the correct security picture but are still unable to log in, your PIN/Password may need to be reset. Remember: PINs must be between 6-25 characters in length and contain at least one letter, one number and one special character.
If you are "locked out", contact your local branch and we will unlock your account. Remember: If you try to log in 3 times unsuccessfully, your account will be locked and you will receive an email notifying you that you have been locked out.
Q: What are the system requirements to access Online Banking?
A:
You can access our website from any computer (PC or Macintosh) that has Internet access and a current web browser. We recommend using
Edge®
,
Firefox®
or
Chrome™
 for PC users and
Safari®
 for Macintosh users. Use any of the listed browsers to take advantage of secure interactivity with our site. It is also necessary to accept a one-time cookie. If prompted, please accept this cookie to continue your online banking session.
Q: When will my online transfer post?
A: Transfers can be created 24 hours a day, however, only transfers made prior to 6:00 p.m. CST on normal business days will post the same day. Transfers made after 6:00 p.m. CST will post on the next business day.


---
Mobile Banking Questions
Q: What type of accounts can I access with Bank of Advance Mobile?
A: Bank of Advance Mobile will provide access to the same accounts that are accessible through Online Banking: checking, savings, club, certificates of deposit, money markets, loans and lines of credit.
Q: How do I access Bank of Advance Mobile?
A: You must be a current Online Banking customer with a NetTeller ID and PIN/Password. You will use the same NetTeller ID and PIN/ Password for mobile banking. To download our Mobile Banking app, visit the Apple App Store for iOS users and the Google Play Store for Android Users.
Q: What happens if I lose my mobile device?
A: Since your account data is NOT stored on your mobile device, your information cannot be stolen. When you replace your device, log in to Online Banking via www.bankofadvance.com and update your information.
Q: What if my wireless provider isn't on the list of available wireless providers?
A: Contact us and we will work to get your wireless provider added to the list.
Q: How can I search for a transaction?
A: You will be able to view the last 3 months worth of transaction history using our mobile banking website. There is no search feature.
Q: Can I use any mobile device to access my accounts?
A: Yes. You can access your accounts via any mobile device that is web-enabled and allows secure SSL traffic. The only difference is that confirmation texts will be sent to the device entered when enrolling for mobile banking.



---
Bill Pay Questions
Q: Can I determine the frequency of payments?
A: Yes. You can schedule a one-time payment or recurring payments for the same amount. The final payment of a recurring payment is designated by an expiration date.
Q: How can I tell if my payee will be paid by check or electronically? 
A: When you initially establish your payees, the system determines if the payee will accept electronic payments. If the payee does not accept electronic payments, they will receive a check. On the main payments dashboard, you will see either check or electronic under your payee. Note: If, at a later date, a check payee decides to accept electronic payments, your payee will automatically be switched to an electronic payee. The system periodically checks for new electronic payees.
Q: Is it possible to cancel or stop a payment?
A: Electronic Payment- Yes, you can edit or cancel a payment up until the payment is processed. Once the funds have been removed from your account, there is no way to stop the electronic payment or retrieve the funds.
Check Payment- Yes, you can edit or cancel a payment up until the payment is processed. If you notice a discrepancy after the payment has processed you can contact us to set up a stop payment on the check to keep it from posting to your account. You may then set up a second, correct payment to be processed. Note: Regular stop payment fees apply.
Q: Does my Bounce Protection work with Bill Pay?
A: Yes, Bill Pay items will process if they are within your Bounce Protection limits.
Q: How long does it take for my bill to be paid?
A: Check payments take 7-10 days to reach your payee. Electronic payments take 3-5 days to reach your payee.
Q: Can I use Bill Pay with all of my accounts?
A: You can use Bill Pay with any of your checking accounts. Savings accounts cannot be used for Bill Pay.
Q: How do I add a new payee?
A: You can add a payee by clicking "Add a Payee" within the Bill Pay tab.
Q: Who can be paid using the Bill Pay system?
A: Anyone in the United States can be paid through Bill Pay. Large creditors will be more likely to accept electronic payments. Individuals and local businesses can be paid with a check or electronically with an email address.



---
eDocs Questions
Q: What documents are available through eDocs?
A: Statements, Non-Sufficient Funds (NSF) Notices, Bounce Protection Notices, Wire Notices, Account Analysis Statements and CD Notices.
Q: How do I save eDocs for future reference?
A: Electronic statements and notices will be accessible through the email message for 18 months. You may also choose to save the PDF file to your computer for as long as you like.
Q: How will I be notified that eDocs are available?
A:
 You will receive an email notification that your eDocs are ready for viewing. 
Please add onlinesupport@bankofadvance.com to your email contact list to ensure delivery of eDocs.
Q: How can I review previous statements and notices?
A: To have unlimited access to the document, you should save the file to your computer. If you do not save the documents, statements will be accessible for 18 months after your email is received and notices will only be available for 30 days after receipt.
Q: Will I be able to print eDocs?
A: Yes. Once you open the document, you will be able to print it just like you would print any other document on your computer.
Q: Will I need any special software to view eDocs?
A: Yes. You will need to have a recent version of Adobe Reader installed on your computer. Adobe Reader is free software that is used for viewing and printing electronic forms.
Q: How long will it take to receive my first eDoc?
A: Once you have enrolled in eDocs, you will receive one last paper copy of the document you enrolled for along with an electronic copy. After you view the initial electronic copy you will no longer receive a paper copy. When your statement/notice is produced on our system it will reach your inbox in a matter of minutes.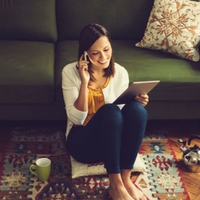 Get In Touch
We are committed to helping you with all of your banking needs. Let us know how we can help!