Online Bill Pay
Online Bill Pay gives you the freedom to manage your life when and where it's convenient for you.
Bank of Advance Bill Pay allows you to:
Pay all of your bills easily and safely from your Online Banking or Mobile Banking. Paying bills online is safer than mailing personal checks through unsecured mail.
Save time and money. Use the Savings Calculator to see how much you can save with the FREE* Bank of Advance Bill Pay service.
Schedule payments to come out of your account when you want. Set up one-time or recurring payments.
Receive electronic versions of your paper bills when you sign up for eBills. Your balance due and payment due date information will be available within your Bill Pay session. 
Send electronic Person-to-Person (P2P) payments to anyone in the US using just their phone number or email address. Save time, money, and hassle. No checks to write and no envelopes to mail.
Initiate expedited payments with the Rush Delivery payment option. Note: A fee will apply for Rush Delivery payments.
Establish alerts and reminders to let you know when your bills are due and when your payments have processed.
Have direct access to Bill Pay Support staff Monday through Friday from 6:30 AM to 1:00 AM Central Standard Time. Contact Bill Pay Support at (866) 321-3605 or live chat with a Bill Pay Support Specialist within your Bill Pay session.
To start using Bill Pay:
Enroll within Online Banking by clicking on the Bill Pay tab.
After your enrollment is complete, select the button to add a Payee at the top of your payments dashboard. Select the type of payee you will be paying, and enter the requested information.
When you are ready to make a payment, find your payee on the payments dashboard, and enter the payment information. Click Submit all Payments.
To set up a recurring payment, find your payee on the payments dashboard, and select Make it Recurring. Choose your desired payment frequency.
For more information about adding payees and scheduling payments, go to the Help section in your Bill Pay tab.
You must be an Online Banking customer to sign up for Bill Pay.
Don't have Online Banking?  
*Rush delivery fees may apply.
Designed for You

Open an account that fits your
lifestyle, and make the most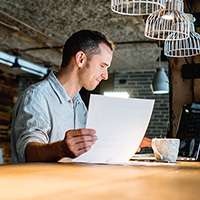 Business Banking
We are committed to providing business accounts that work as hard as you do.